West Wing Roof Replacement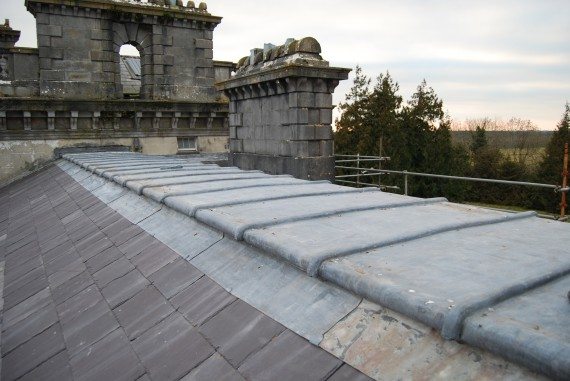 In the 1970s the west wing roof was severely damaged by fire leading to extensive damage. With the help of heritage grants the roof was replaced by Purcell Construction, including re-slating and new lead lining.
At the same time the kitchen annex roof and skylight were restored along with the roofs of the Gardeners Lodge and Gatehouse.
Most of the estate maintenance is carried out by the voluntary Woodlawn Heritage Group with the assistance of heritage grants.  Restoration work has taken place on the Trench family mausoleum, The Folly, The Gatehouse, The Presbytery, Woodlawn Church, Woodlawn railway station and surrounding buildings, the Stewarts and farm workers cottages, the Round Tower, the Tower House and the Schoolhouse.  Woodlawn Heritage Group are also responsible for the redevelopment of the "Golden Mile" walk to the railway station.
While this has prevented the decay of the estate as a whole there is still more to be done, even excluding the main house. The White Bridge is in bad need of repair and the surrounding lake is in need of clearing and re-landscaping.  The Pumphouse, kitchen garden, walled garden arboretum and haw-haw will all need work during the coming years.
Public Access and Nature Trails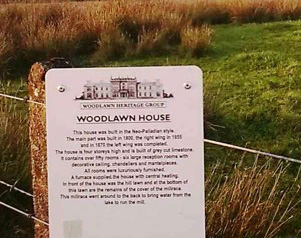 Currently much of Woodlawn Estate is closed to the public, although the Golden Mile is open as a walking trail where the major landmarks are signposted along the way.  The surrounding woodland which used to belong to the estate is managed by Coilte who allow public access along all paths.  This allows the public access to the White Bridge and lake to the rear of the House.
Part of the aim of the restoration work is to allow greater public access although due to safety concerns the buildings and structures will remain off-limits until restored to a safe condition.
The planned visitor centre will provide parking as well as acting as a base for visitors and walkers.