The maintenance and restoration of Woodlawn estate would not have been possible so far without the support and involvement the local community.  Much of the work done to date has been entirely voluntary and has gone a long way towards saving the entire estate from dereliction.  Apart from the physical work and manpower, much research has been done on a local level into the history of the house, estate and surrounding area.
Woodlawn Heritage Group
Woodlawn Heritage Group was formed in 1993, based on an idea of the late Paddy Quinn, Killaan, Woodlawn. The general aim of the group was to develop and preserve the amenities of the Woodlawn area. 
As a means of having development and preservation work carried out, it was decided that the group would sponsor a Community Employment Scheme. 
Over many years, the group undertook various conservation projects on a number of the heritage buildings in the area and enhancing the general landscape.
Woodlawn Heritage Group has been responsible for much of the recent work to save the estate from dereliction.
Woodlawn – A History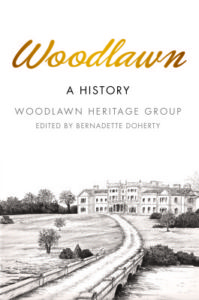 Historical Research
It was noted by the group that no comprehensive history of Woodlawn was ever compiled. In 2009 a sub-committee was formed to take charge of this project. 
The Committee undertook a "Localore" Course conducted by Tomas Hardiman, co-ordinated by Marie Mannion, Heritage Officer of Galway County Council and funded by GRD. This Course provided valuable information on methods of researching historical and photographic archives together with recording local spoken histories.